Denouement Dashboard - Euro Trip Ep. 9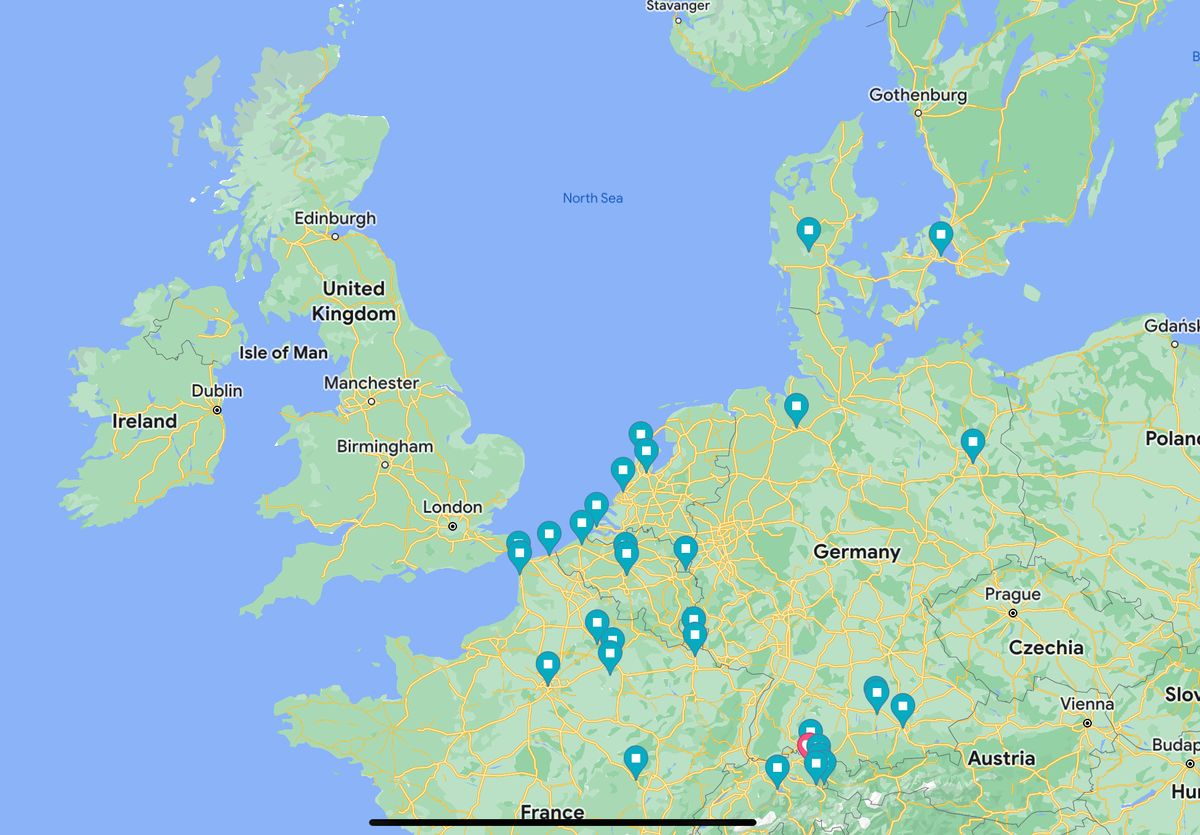 Since Europe is the size of a large Australian suburb, it will be too difficult to do 'Country Summaries' every couple of days as we cross borders. Since we are doing Europe as a road trip, I'm just going to do 'week-by-week' Dashboards, that will probably encompass a couple of countries at a time. Then an overall summary at the end.
As usual, follow along at:
Anyway, let's get into it:
---
Ep. 9: 26-30/8/23
Where we Went:
Denmark: Copenhagen, Lego Land
Germany: Bremen
France: Paris CDG Airport to drop off the car...
Tracks:
Driving distance in 'Monsieur Gustave H. II', our lovely Renault Koleos:
Walking:
Total = 2,234.7 km
Running Total of Eurotrip Mileage = 14,521.5 km
Expenses:
Total Expenses for the five Days: $4,372.66 AUD
Expense per day = $874.53 AUD/Day
Specific Transport Expenses Total: $672.16 AUD
💡
Running Total for all expenses on the Expedition Denouement: $106,578.70 AUD
Travel Bingo:
I don't think I should make multiple bingo cards per week, so:
France: 15 'Influencers', 1 'Karen', 2 'Americans'
Belgium: 5 'Influencers', 1 'Khaki Queen'
Netherlands: 4 'Influencers', 2 'Americans' and 1 'They're Not Gonna Make It'
Luxembourg: 6 'Influencers'
Germany: 3 'Influencers', 2 'Americans'
Switzerland: 6 'Influencers'
Liechtenstein: 1 'American'
Poland: 2 'Influencers', 1 'Spiritual King'
Norway: 1 'Khaki Queen'
Denmark: 1 'Influencer' and 1 'American'
An explanation of Travel Bingo is here.
Relevant Media:
Basically anything with Mads Mikkelsen (Danish)
So Casino Royale's 'Le Chifre' bad guy, the 'Hannibal' series on Netflix and a couple of favourites like:
The Hunt
Riders of Justice
Or anything with Viggo Mortensen (Also Danish, and apparently a nice guy that lives a normal life in a little town in Denmark)
Aragorn in LOTR
And the supporting act in GI Jane
He also is in 'The Road' as well (need to watch)
Culinary Corner by a Non-Foodie:
Not much here for this little section, other than 'Muchos Mas' in Bremen. It's a little Tapas place with really yummy food. We caught up with Courtney, a crazy Kiwi lady, who Casey had met in Peru (when she went on a tour to the sand dunes while I slept in because the pickup time was 0345…).
Tips and Tricks:
Denmark is expensive. So Copenhagen is very expensive. But public transport works very well. So stay out of town where it is cheaper and just get the train in.
Also if you have a Kayla, go on a Kayla-tiki tour around Copenhagen. I recommend finding a Kayla. Kaylas are fantastic.
Recommendations:
Tivoli theme park in Copenhagen is absolutely lovely. It's something like 180 years old. Go on the creepy Hans Christian Anderson ride.
And go to Legoland - it is fantastic. There a bunch of Lego-themed rides, sure, but the miniature cities and towns made out of Lego are the best.
Summary:
That was the last of the weekly Eurotrip Updates. Next week I will tally up the numbers for a bit of a Euro-Summary.
Then probably a bit of a summary of the whole trip so far to fill in the gap where I go back to Australia to work for a few weeks while Casey is hosting Pole Dancing Retreats in Bali.
---
Thanks for reading along.
Luke.
---