Denouement Dashboard - Euro Trip Ep. 7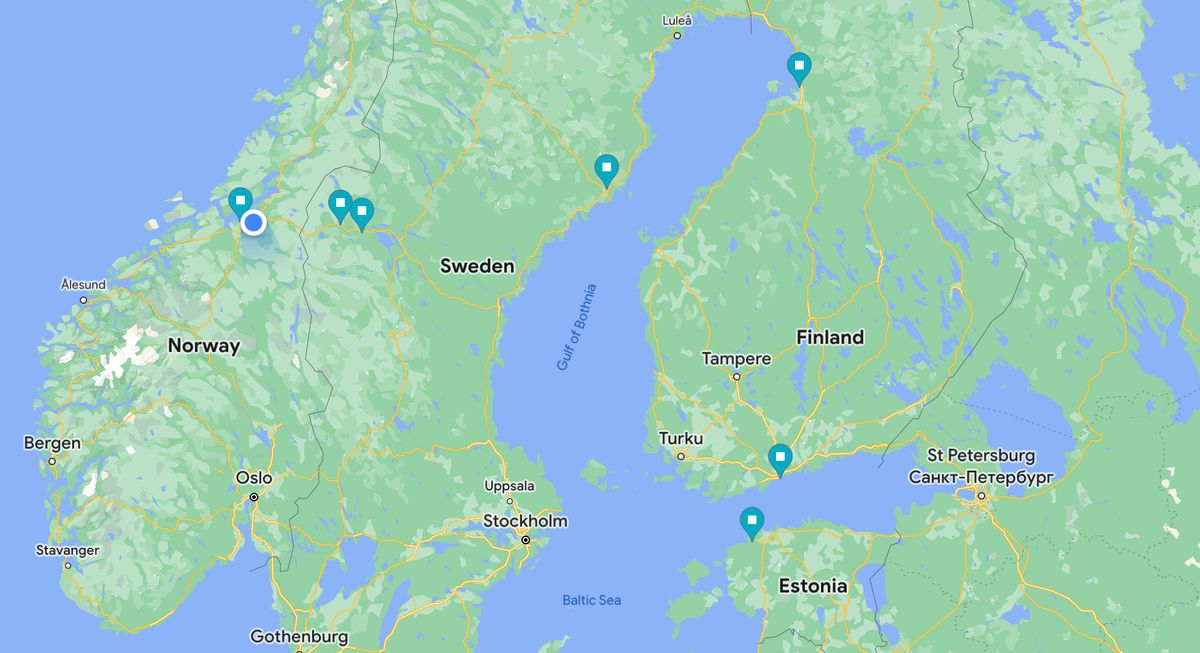 Since Europe is the size of a large Australian suburb, it will be too difficult to do 'Country Summaries' every couple of days as we cross borders. Since we are doing Europe as a road trip, I'm just going to to 'week-by-week' Dashboards, that will probably encompass a couple of countries at a time. Then an overall summary at the end.
As usual, follow along at:
Anyway, let's get into it:
---
Ep. 7: 12-18/8/23
Where We Went:
Estonia: Langa, Tallinn
Finland: Helsinki, Oulu
Sweden: Umea, Morsil
Tracks:
Driving distance in 'Monsieur Gustave H. II', our lovely Renault Koleos:
Ferry across the Gulf of Finland:
Walking:
Total = 2,126.3 km
Running Total of Eurotrip Mileage = 10,618 km
Expenses:
Total Expenses for the 7 Days: $3,902.47 AUD
Expense per day = $557.50 AUD/Day
Specific Transport Expenses Total: $1,431.63 AUD
💡
Running Total for all expenses on the Expedition Denouement: $98,707.29 AUD total to date + $2,181.87 of future expenses already accounted for
Travel Bingo:
I don't think I should make multiple bingo cards per week, so the running totals in Europe:
France: 15 'Influencers', 1 'Karen', 2 'Americans'
Belgium: 5 'Influencers', 1 'Khaki Queen'
Netherlands: 4 'Influencers', 2 'Americans' and 1 'They're Not Gonna Make It'
Luxembourg: 6 'Influencers'
Germany: 3 'Influencers', 2 'Americans'
Switzerland: 6 'Influencers'
Liechtenstein: 1 'American'
Poland: 2 'Influencers', 1 'Spiritual King'
An explanation of Travel Bingo is here.
Relevant Media:
https://spotify.link/qhwzr5XKrCb
https://spotify.link/mOkXN81KrCb
Culinary Corner by a Non-Foodie:
I am reliably told is excellent. Salmon is not my thing.
Finland has a coffee culture!
They have one of the highest coffee consumptions per capita in the world, averaging around 10kg of coffee consumed annually per person. Probably something to do with the cold. Anyway the point is that you can get proper flat white/lattes in normal cafes in Finland. Helsinki, for example, has heaps of cafes.
Basta! - a pizza and pasta restaurant in Ostersund, Sweden
Seems like there are a few of them around Sweden, but we just happened to stumble upon the one in Ostersund. And it was fantastic.
Tips and Tricks:
Booking a ferry from Estonia to Finland is easy.
I used Direct Ferries to book. There are multiple cruise lines with multiple passages per day.
For two people and a car it cost $216 AUD. Probably a much better option than driving up the coast through Russia...
Helsinki has excellent public train transport. So it's not too much of an issue if you stay further out of the city for cheaper accomodation.
Recommendations:
Filter for saunas when you are booking. It's awesome.
In Helsinki, the foodhalls that sell traditional foods are not overproced and are very good quality. Give them a go.
Finnish service stations often have a full restaurant attached where you can get fresh hot meals from a menu. They are excellent.
The small towns in the north are beautiful, if doing long drives, just pick one. They all seem to be quiet little places overlooking beautiful lakes.
Summary:
Baltic roads are still the worst in Europe... But they are a bit cheaper, thankfully.
I saw a moose in Finland.
Peace and quiet and calmness and respect for personal space seems to be a cultural norm in Scandinavia - which I can get around.
Less cyclists up here, which is nice.
No more car issues, thankfully. I can't imagine how annoying it would have been to call some French people and tell them we had broken down in northern Finland. They probably would have kept us on hold until after their summer holidays or some such French nonsense...
---
Thanks for reading along.
The next weekly road trip update will come... next week.
Luke.
---