Denouement Dashboard - Bolivia 🇧🇴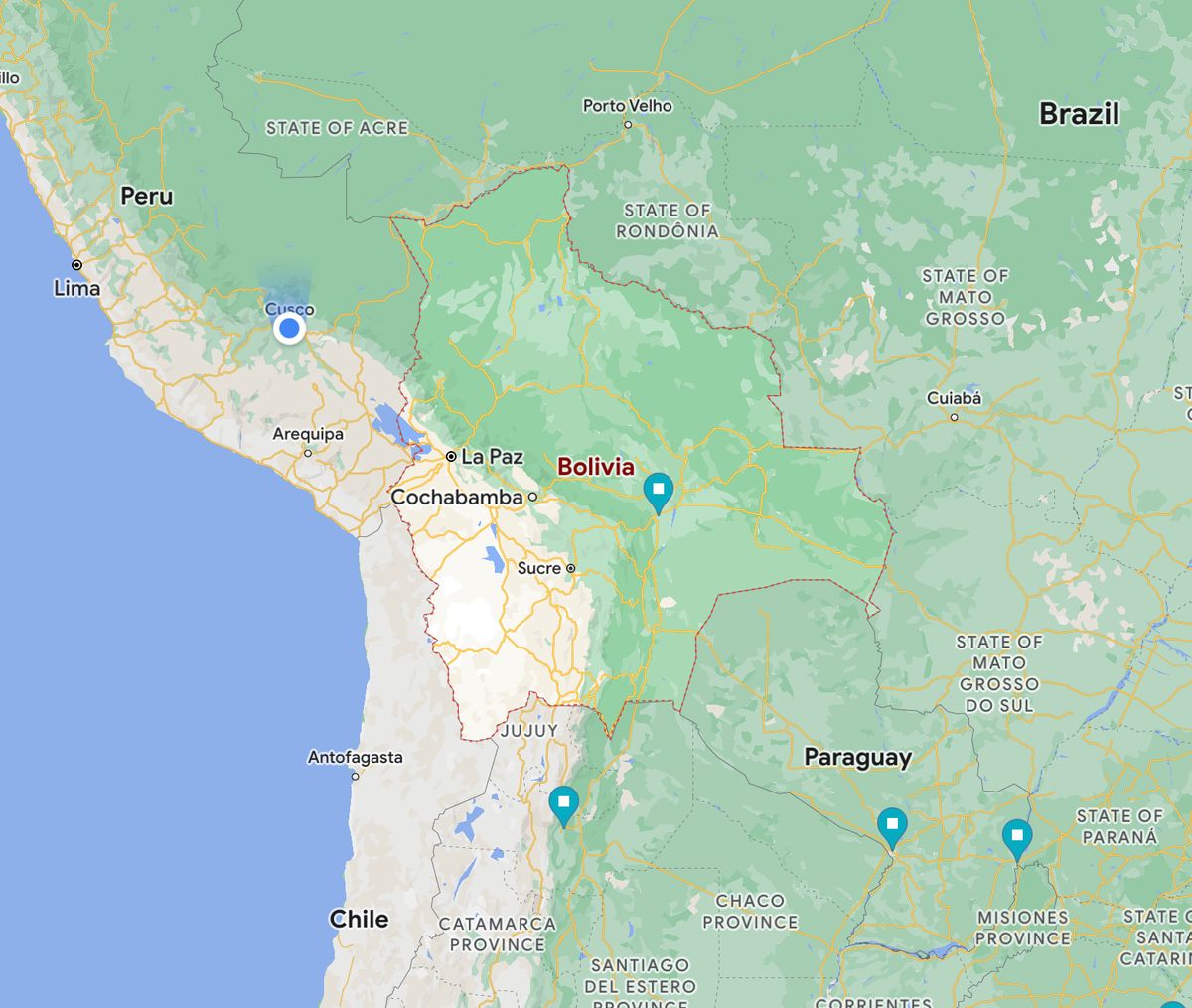 This is the place I will cover the stats of each country as we go.
As usual, follow along at:
Anyway, let's get into it:
Bolivia: 7-18/4/23
Tracks:
Rough rules: I will count the flight (or bus) TO that country as tracks IN that country.
Planes:
Foz du Iguacu --> Sao Paolo --> Sant Cruz de la Sierra = 846 + 1850 = 2696km
Santa Cruz de la Sierra --> La Paz (El Alto) = 553km
La Paz (El Alto) --> Uyuni = 459km
Automobiles:
About 50km around Santa Cruz
La Paz --> Tiwanaku --> La Paz = 132km
Probably another 30km around La Paz
About 850km in a Landcruiser throught the Bolivian high desert
Walking:
Total = 4,833.3km
Expenses:
Rough rules: I will count the flight (or bus) TO that country as an expense IN that country.
Total expense: $4,107.10 AUD
Total Days: 12 Days inclusive
Expense per day = $342 AUD/Day
Expenses Breakdown (mathematical, not emotional):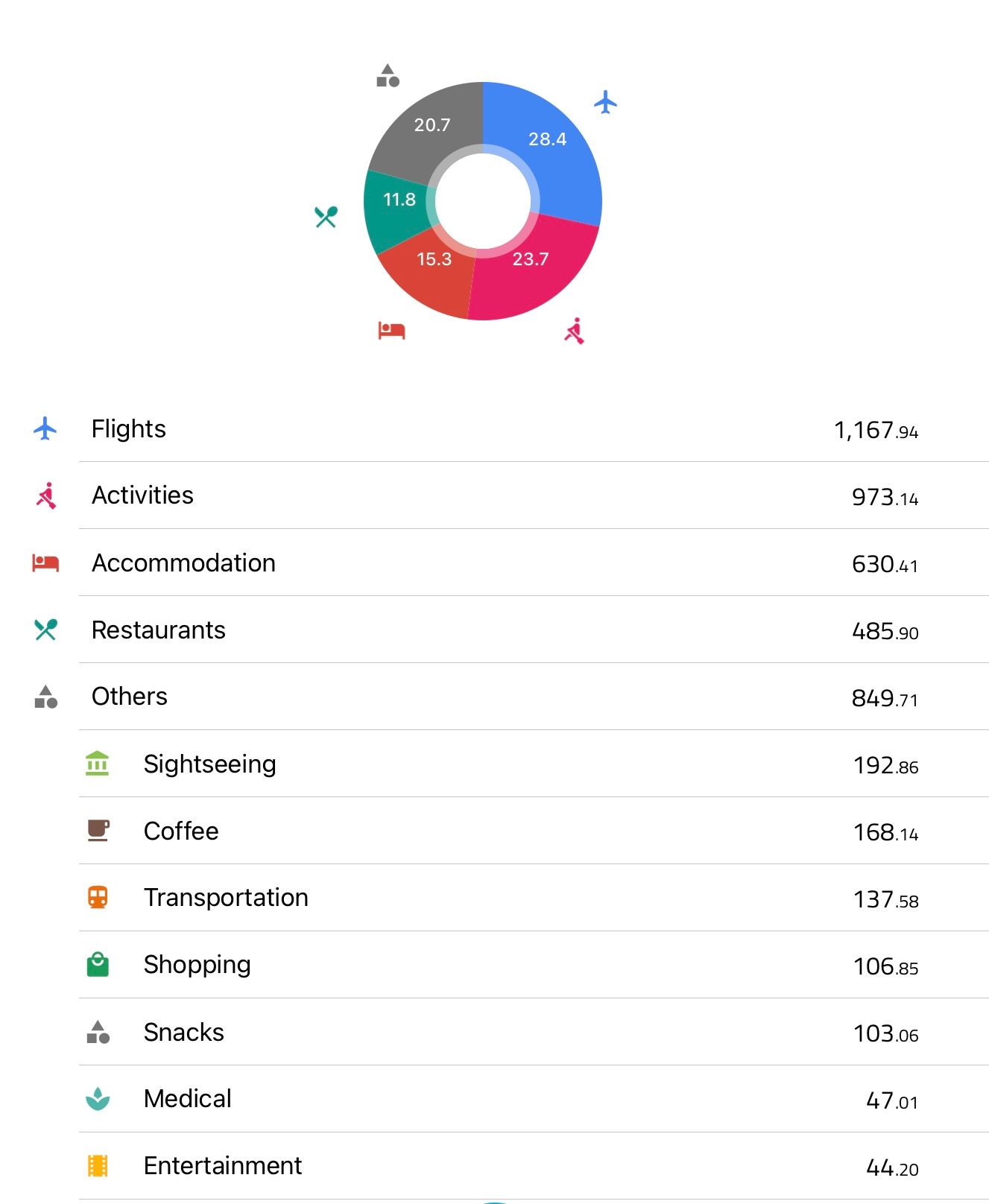 The 'Activities' line here is greater than the 'Accomodation' because I arbitrarily decided that a three day tour out in the desert (that included accomodation) would be classified as 'Activities'. It's not a democracy.
Reasonable restaurants bill as well I suppose - couple of good places in Santa Cruz, some good Japanese in La Paz, and awesome Pizza in Uyuni.
(And as I write this we are in Peru on a pseudo-organised tour that includes accomodation that I have classified as 'Sightseeing' because it is a bit less robust than bouncing around the desert in the back of a Landcruiser. The lack of clarity is making me anxious but I suppose I am still accounting for the dollars...)
Travel Bingo: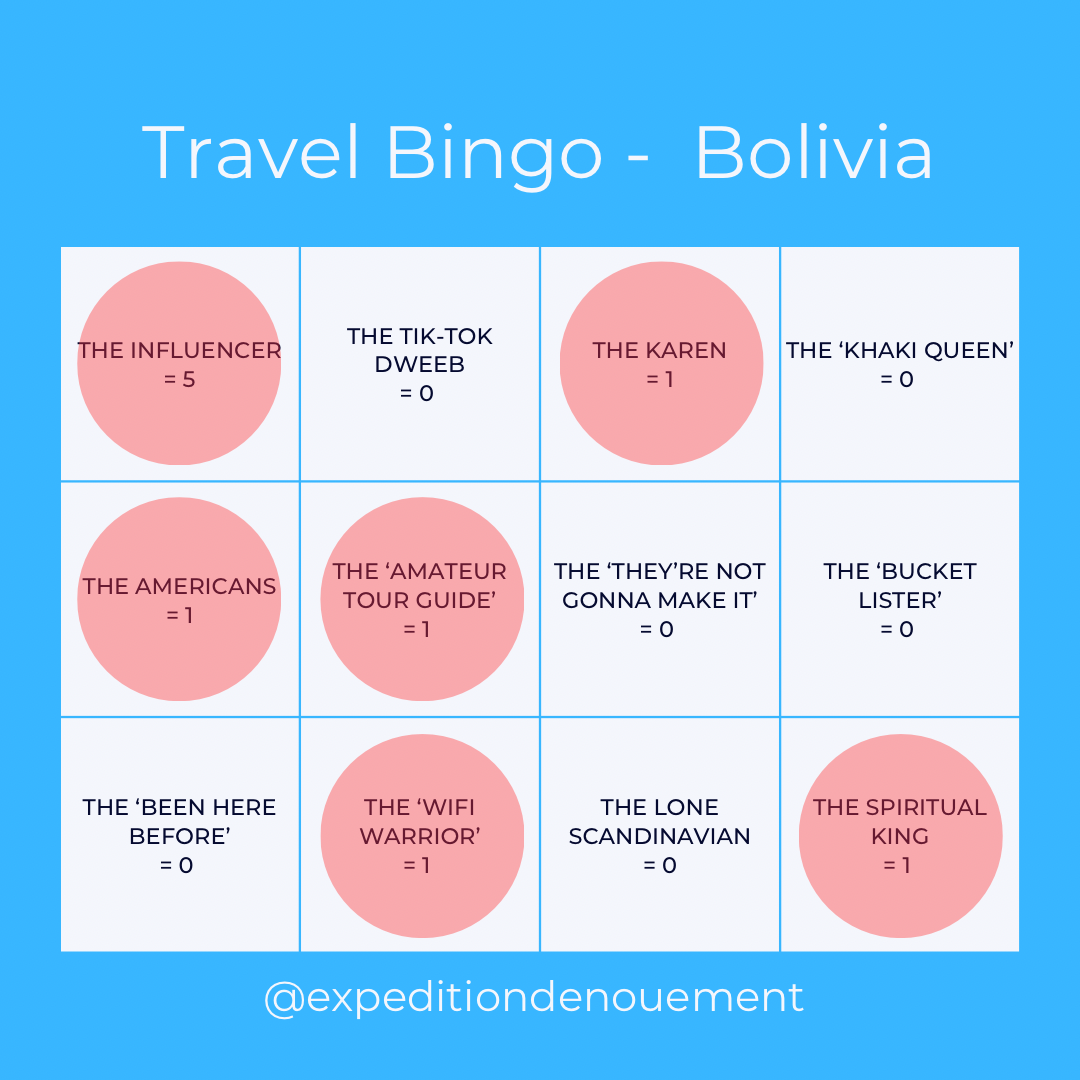 Pretty good Bingo Card from Bolivia, actually. Really punching above it's weight.
An explanation of Travel Bingo is here.
Relevant Media:
There is (allegedly) ongoing history of human sacrifice in Bolivia so that bodies can be buried in the foundations of buildings....so the buildings won't fall down.
And then there is a Daniel Radcliffe movie based on real events in Bolivia as well - need to get around to watching it.
Culinary Corner by a Non-Foodie:
To be honest, Bolivian food is rubbish. Sorry, guys.
You can expect a quinoa (their prized grain) vegetable soup then some fairly thin meat with boiled vegetables and some rice.
We did have some really good food in Bolivia, it's just that it was of Japanese or Italian heritage...
Again, sorry.
Llama sausage is not too bad though.
Tips and Tricks:
If you are pressed for time, don't go to Santa Cruz de la Sierra - it was fine, it's just not quite what you are after if you are going to Bolivia - it's not Bolivian Amazon, it's not Bolivian Andes, and not Bolivian salt flats/desert.
In La Paz, stay in Sopocachi - fairly upmarket and safe area.
Do not stay in El Alto - I would be suprised if any booking aggregator ever gave you that option, but don't - it is well known as an unsafe place.
You can't drink the water - get some bottles.
If Solo traveller in La Paz - stay at the Selina Hotel - lots of backpackers around.
In La Paz - there are heaps of people asking for money and trying to sell you rubbish - watch your bags.
Recommendations:
In La Paz - do a walking tour, it's an interesting city full of superstitions, withcraft and history.
In La Paz - Use the cable cars; the traffic situation is cooked and it's too steep to walk everywhere.
In La Paz - absolutely go and see some Cholitas Wrestling. Google it and thank me later.
In Uyuni - Stay at the Tonito hotel; it is fabulous. And eat at the attached 'Minuteman Pizza' - Chris is amazing.
Take a tour for a few days out over the Salar de Uyuni salt flats and up into the high desert - it's amazing.
Summary:
Bolivia is a superstitious place with great deference to the Mother Earth - down to burning sugar statues and llama foetuses as sacrifices so that you may get a favourable loan from a bank.
Socialism is obviously holding the place back - the fools nationalised the gas industry then forgot to prospect for subsequent sites after the original mines went dry - what a surprise.
The altitude is significant - expect at least a couple of days to start to acclimatise. Anyone with respiratory or cardiac issues needs a plan for their travel - 3,500m is no joke.
As I am starting to look through the lens of "would I live here" - Bolivia would not make that list.
So set aside a week or so - see some llamas, hit the salt flats, and try on a poncho.
---
Thanks for reading along.
The next country update will come... after the next country.
Weekly updates will come...weekly.
Luke.