Denouement Dashboard - Uruguay 🇺🇾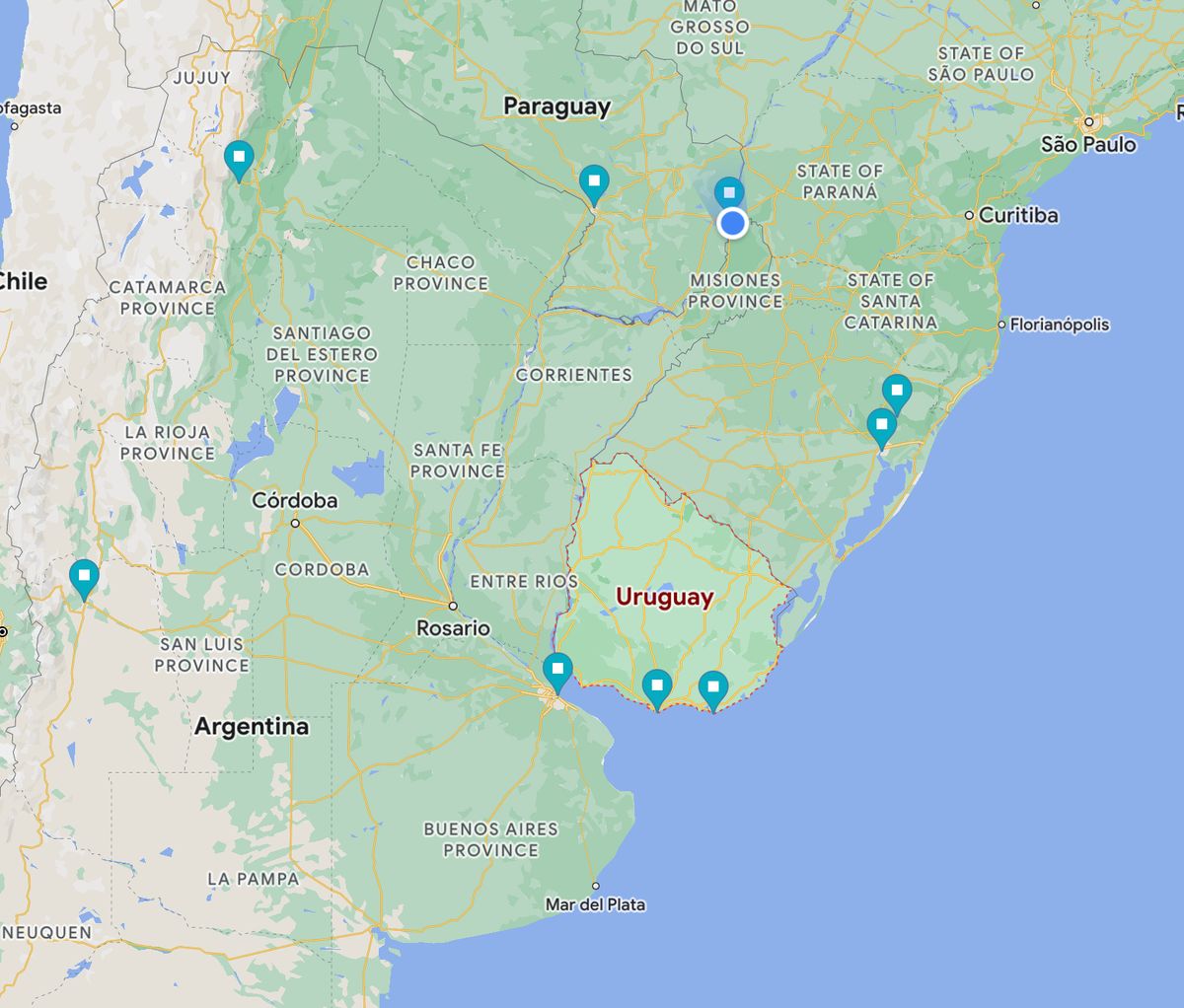 This is the place I will cover the stats of each country as we go.
As usual, follow along at:
Anyway, let's get into it:
Uruguay: 24-27/3/23
Tracks:
Rough rules: I will count the flight (or bus) TO that country as tracks IN that country.
Planes:
Asuncion --> Montevideo = 1074 km
Automobiles:
Montevideo --> Punta del Este (return) = 262 km
Boats:
Walking:
Total = 1,357.5 km
Expenses:
Rough rules: I will count the flight (or bus) TO that country as an expense IN that country.
Total expense: $2,279.03 AUD
Total Days: 4 Days inclusive
Expense per day = $569.76 AUD/Day
Expenses Breakdown (mathematical, not emotional):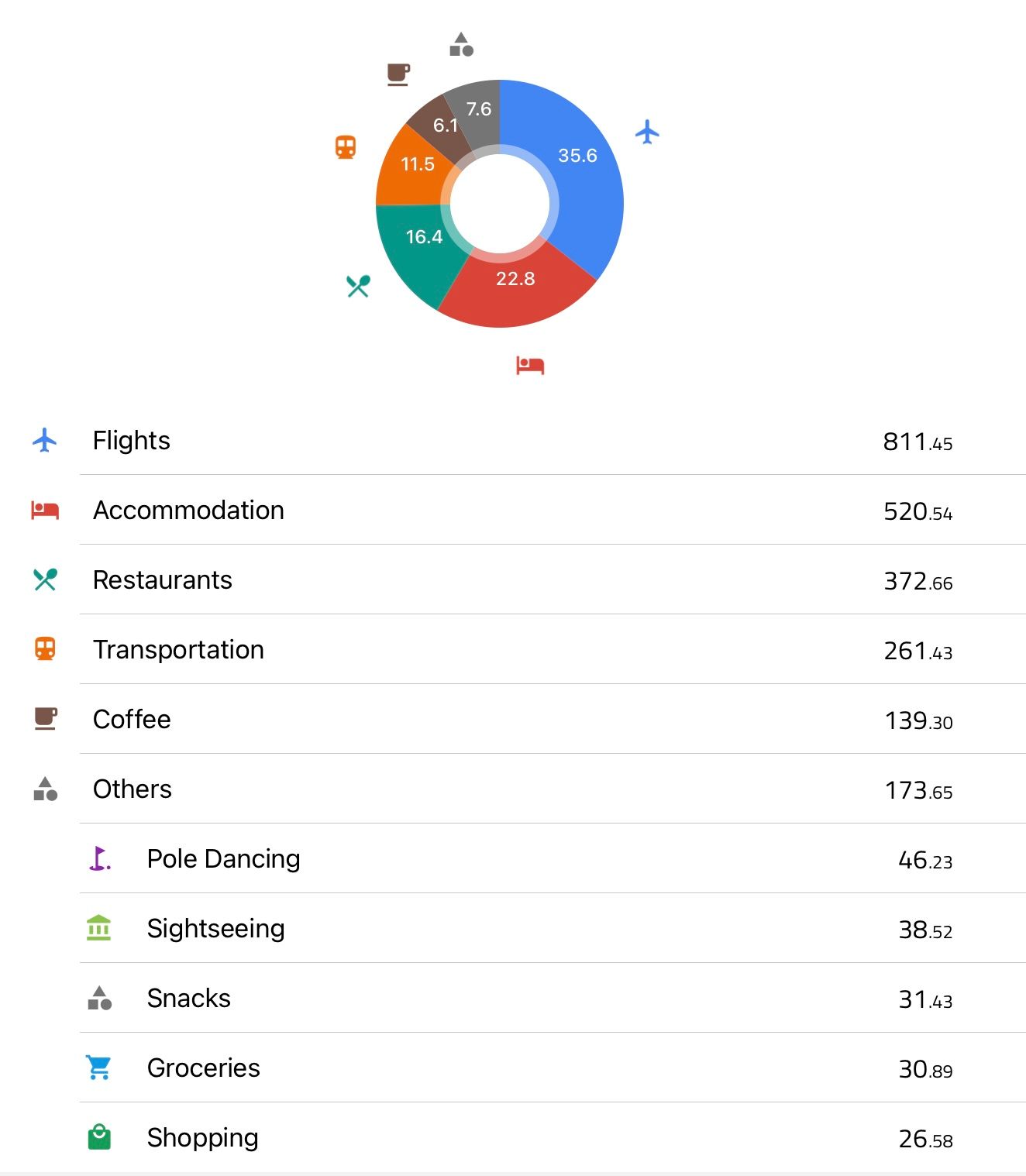 Travel Bingo: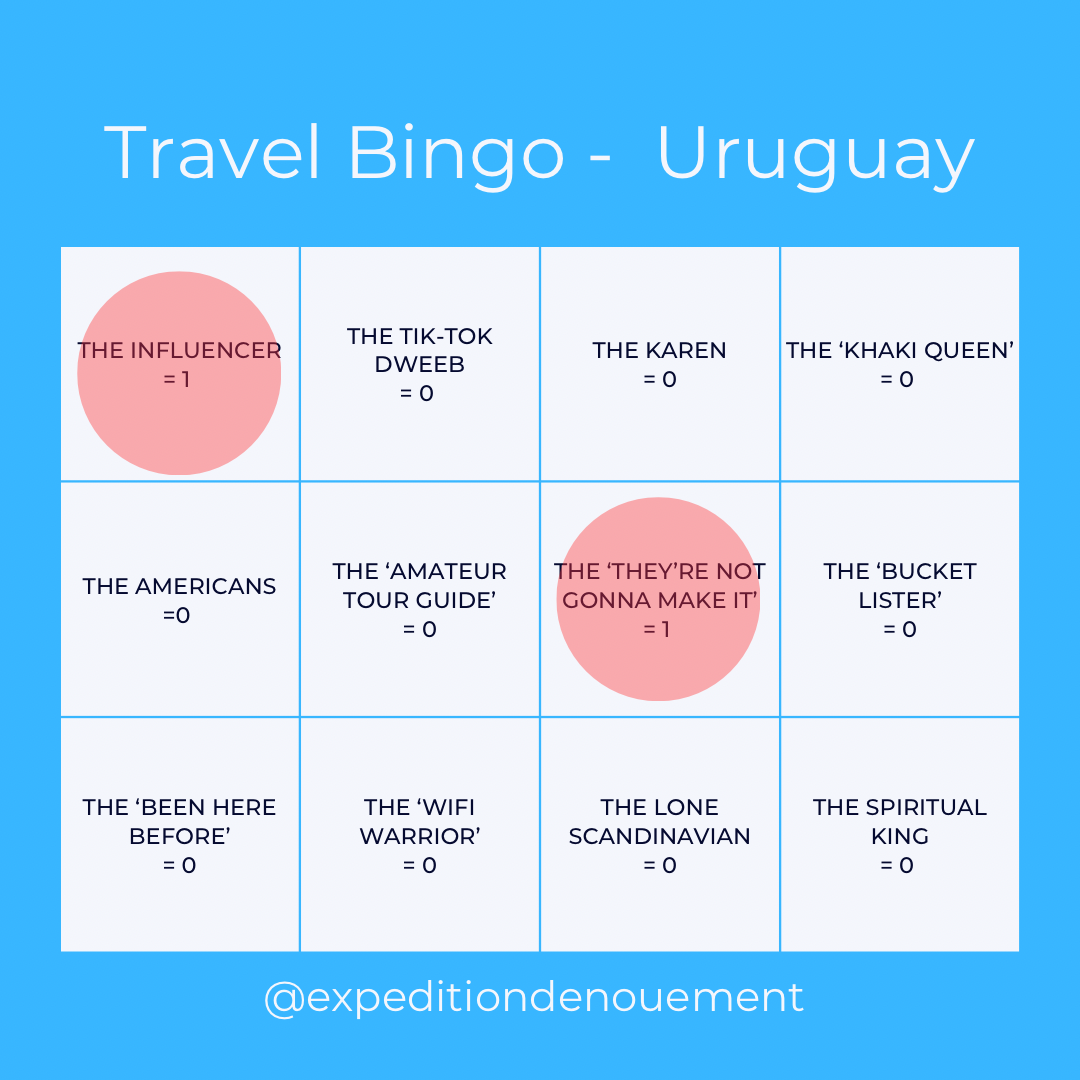 There wasn't really that much tourism in Montevideo, which is where the money is for Travel Bingo.
Culinary Corner by a Non-Foodie:
The food is more expensive here - Uruguay does not seem to be plagued by currency hyperinflation, nor would you really consider it 'developing' insofar as your dollar goes no further than it should. It is a developed place with excellent quality grocery stores and fine restaurants.
The coffee situation is still the same - nothing has topped Australian coffee so far.
But it does seem like Uruguay is using real milk in their coffee, which is nice.
Some of the best beef so far. (We will go on to be told sheepishly by a Brazilian friend cooking us Picanha that Uruguayan beef really is quite excellent...)
Tips and Tricks:
Credit and debit cards work fine everywhere here.
TravelSpend - get the app, document your expenses. What gets measured gets managed.
Google Maps - download offline maps for wherever you are heading.
Uber works - book from wifi then get in - it doesnt matter that you lose connection during your journey, it still works.
Recommendations:
We stayed in the red circle, which was the old town. Visually it was really nice but in the end it was too far from things - restaurants, shops, nicer beach walks etc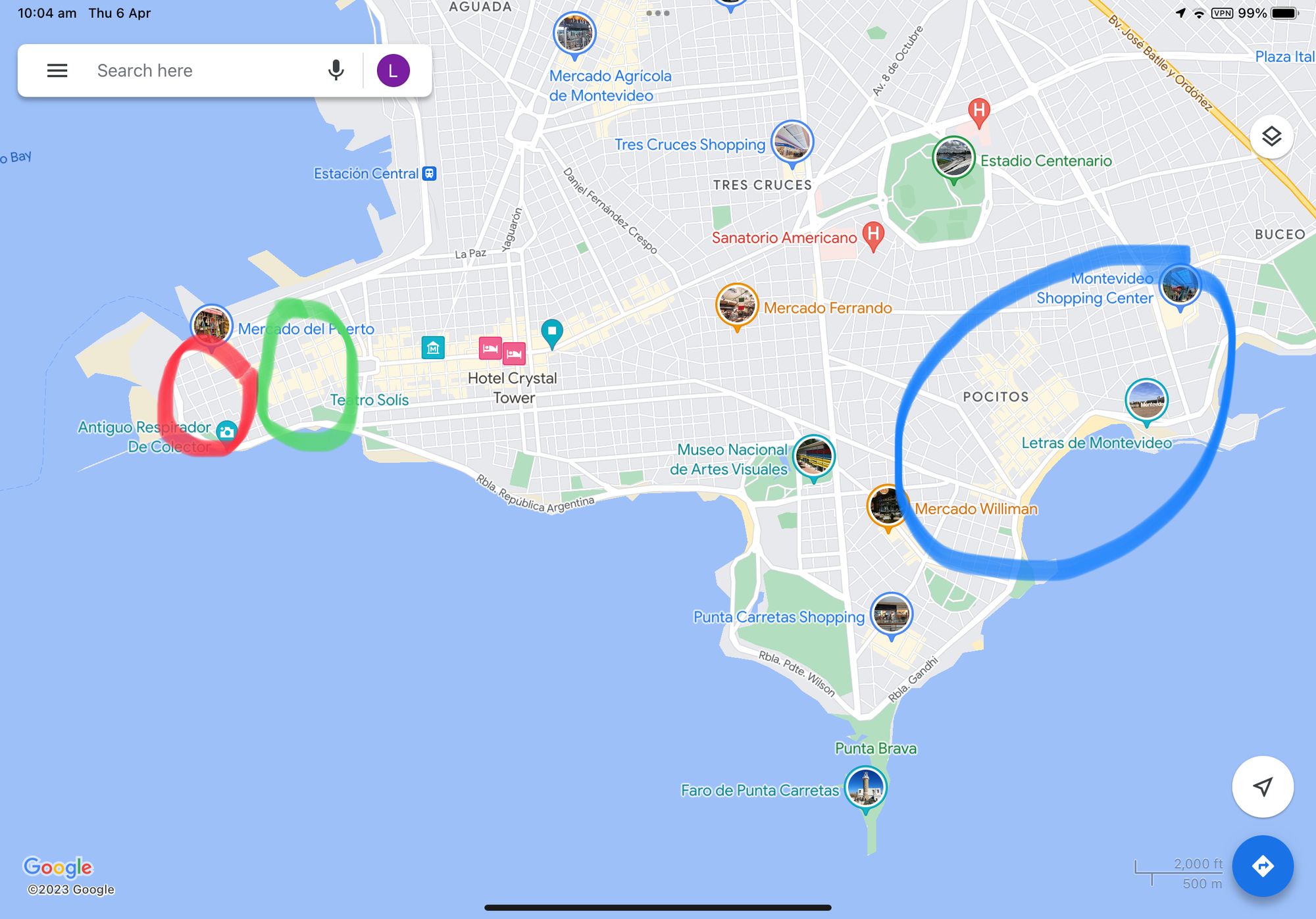 The red and green circles are both in the old town - I circled half as red (where we stayed) becuase this place is completely dead after dark - absolute ghost town. And on the weekends, even the ghosts were gone. Not necessarily unsafe, just completely dead.
The green circle part of the old town, a little furter east, around Plaza Independencia was more not-dead. It's also where some of the nicer hotels and embassies are.
The blue circled area is where the nicer hotels, cafes, restaurants etc are - it also has a bit nicer beachscape compared to the port of the old town.
Go and visist Punta del Este for a day - it is basically an Australian beach city that is very seasonal. Think Gold Coast. So all the usual things - high rises to the beach, more expensive food, mega mansions here and there - nothing wrong with it but you are now forewarned.
An couple of unexpected highlights were: Casa Puebla, which is the awesome old art studio (now hotel) of Uruguayan artist Carlos Páez Vilaró; and The Museos Ralli - an overtly private art gallery (1 of 4 - the others are in Spain and Israel); really cool and entry was free.
Casa Puebla is on the way to Punta del Este and Museos Ralli is in a trendy suburb of Punta del Este.
Summary:
Uruguay (Montevideo is where we spent most of or time) is probably the first place (of likely many) so far that we felt it would be nice to stay a while longer - so maybe a longer stint on the way back around.
The place is developed - it does not feel like a fake tourist location.
So it is not cheap. Prices are comparable to the Anglosphere. It is not a tinpot South American banana republic with worthless currency.
Things work.
The people are nice.
Montevideo is completely dead on the weekend - no taxis, no Ubers, nothing open. Everyone is at the beach or barbecuing with family. Forewarned so you can plan your arrival day.
The Spanish is intelligible - a note here, there is really not a lot of English in South America (may have neglected to mention this in previous issues). Yes, you can stand there with Google Translate, but it pays to know a little Spanish so that you can eat and transit easily and safely.
Government and money seems to function well.
But, of course, the beaches do not compare to Australia - think tidal sand flats in Montevideo and brackish river water in Punta del Este.
Overall would highly recommend for anyone heading to South America.
---
Thanks for reading along.
The next country update will come... after the next country.
Weekly updates will come...weekly.
Luke.