Denouement Dashboard - Euro Trip Ep. 4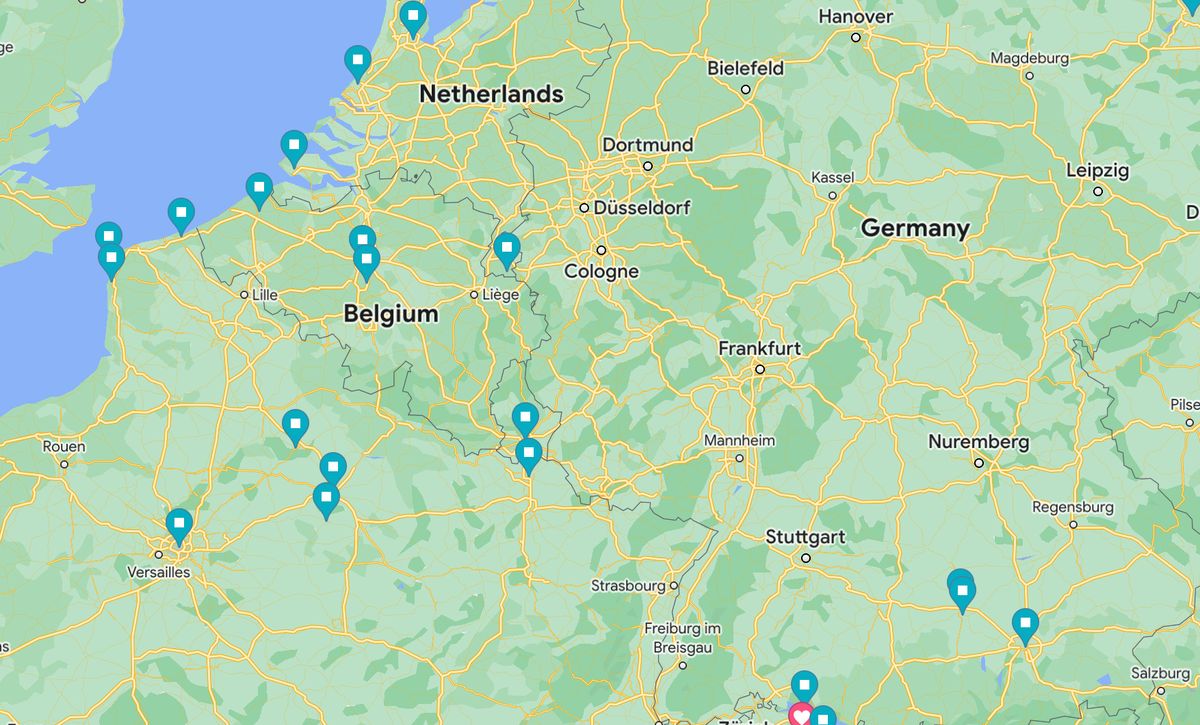 Since Europe is the size of a large Australian suburb, it will be too difficult to do 'Country Summaries' every couple of days as we cross borders. Since we are doing Europe as a road trip, I'm just going to to 'week-by-week' Dashboards, that will probably encompass a couple of countries at a time. Then an overall summary at the end.
As usual, follow along at:
Anyway, let's get into it:
---
Ep. 4: 22-28/7/23
Where We Went:
France: Nitry, Noyers, Chateau Hunting, Paris
Belgium: Waterloo, Brussels
Netherlands: Amsterdam
Tracks:
Driving distance in 'Monsieur Gustave H.', our lovely Renault Scenic (Who then became 'Monsieur Gustave H. II', a Renault Koleos):
Walking:
Total = 1,137.3 km
Running Total of Eurotrip Mileage = 5,489.9 km
Expenses:
Total Expenses for the 7 Days: $3,962.57 AUD
Expense per day = $566.08 AUD/Day
Specific Transport Expenses Total: $1,330.07 AUD
💡
Running Total for all expenses on the Expedition Denouement: $89,846.06 AUD total to date + $4,412.52 of future expenses already accounted for
Travel Bingo:
I don't think I should make multiple bingo cards per week, so the running totals in Europe:
France: 15 'Influencers', 1 'Karen', 2 'Americans'
Belgium: 5 'Influencers', 1 'Khaki Queen'
Netherlands: 4 'Influencers', 2 'Americans' and 1 'They're Not Gonna Make It'
Luxembourg: 6 'Influencers'
Germany: 3 'Influencers', 2 'Americans'
Switzerland: 6 'Influencers'
Liechtenstein: 1 'American'
An explanation of Travel Bingo is here.
Relevant Media:
France/Paris: Some good movies are 'Midnight in Paris', 'Moulin Rouge' (obviously) and John Wick 4.
Belgium: Looks like there is a cracker Napoleon biopic coming out this year, so will stay tuned for that.
Amsterdam: Eurotrip. Obviously.
Culinary Corner by a Non-Foodie:
Parisian coffee is exactly what I remember - really getting close to Australian quality. A couple of weeks ago when we were in more regional France the coffee wasn't up to scratch. It's Paris where you will find the good stuff.
All food is good in France. All bread. All butter. Random sandwiches in fridges at a servo. It's all good.
More specific Paris recommendations from Bel, who is much more of a foodie than I am:
L'as du Fallafel In Le Marais - best falafel I've ever had
Boulangerie Coquelicot in Montmartre
Strada cafe in the 5th - great coffee
Cafe Mericourt
Cafe Kitsune
Verjus or Ellsworth for lunch or dinner - little on the pricier side but amazing use of local food
Pretty decent fancy "food court" options in the department stores too
In Waterloo, Belgium, we had breakfast at a little cafe called 'Cali'. Good pancakes (sweet and savoury) and pretty good coffee.
Tips and Tricks:
In the peak of summer, the height of the tourist season, we were able to book 2 nights in Montmartre, Paris for $100 AUD per night the day before we started driving in to Paris. Consider leaving more space in your schedule. There is so much competition for accomodation in the big cities, you will always find somewhere. (In peak season the prices are always relatively high, however...) So we were in a nice old building with original 3rd floor walk up staircase and an original la belle epoque bar on the ground floor. Not too bad. Booked the day prior, on my phone. Easy.
We then did the same thing before driving to Belgium. Had nothing booked for that night. Booked the morning of over a Parisian breakfast.
There are a few parking aggregators to find somewhere to park in Paris. I happened to use Parclick and it worked fine. Got a secure multistory park in the 9th Arrondissement for a few days for about 45 Euros. Not too bad.
Recommendations:
Drive around the countryside of France in summer. You will either be driving through sunflower fields, rolling countryside or slowing to 50km/h to pass through a beautiful ancient little village, before arriving at a massive old Chateau. Constantly. Or dodging a massive Claas tractor towing a bailer rolling through those same tiny village streets.
Brussels is a bit chaotic so it is easy to stay in the outskirts. And to be honest, the Waterloo battlefield museums and monuments were interesting and good to see - especially because we didn't even realise that's where we had booked to stay...
Summary:
Week did a bit of a spontaneous redux loop around Paris and Amsterdam to chase up Steph and Ben for dinner (in Amsterdam) which was super fun.
Out threshold for preparation and boooking ahead is steadioy dropping - with money in the bank, a tank of fuel, and reliable mobile internet, this continent is easy.
We were also opportunistically able to change in our stupidly oversized Renault Scenic ('Monsieur Gustave H.') for a more European appropriately sized Renault Koleos ('Monsieur Gustave H. II') as we passed through the Paris rental place.
Still yet to kill a cyclist, although I have been tempted...
---
Thanks for reading along.
The next weekly road trip update will come... next week.
Luke.
---