Denouement Dashboard - Euro Trip Ep. 1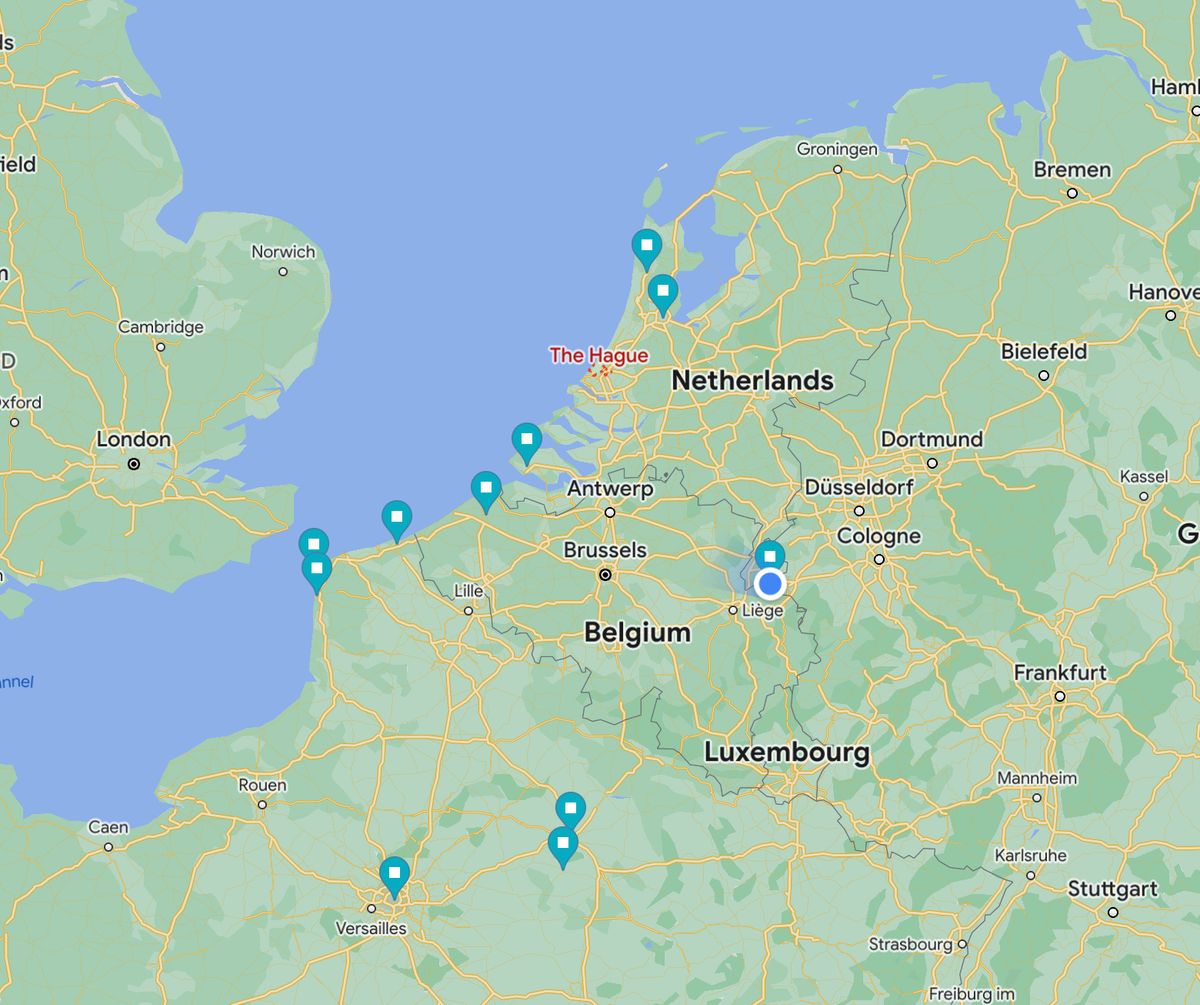 Since Europe is the size of a large Australian suburb, it will be too difficult to do 'Country Summaries' every couple of days as we cross borders. Since we are doing Europe as a road trip, I'm just going to to 'week-by-week' Dashboards, that will probably encompass a couple of countries at a time. Then an overall summary at the end.
As usual, follow along at:
Anyway, let's get into it:
---
Ep. 1: 1-7/7/23
Where we Went:
France: Paris CDG Airport, Reims, Epernay, Laon, Boulogne Sur Mer, Cap Gris Nez/Blanc Nez, Dunkirk
Belgium: Bruges
Netherlands: Middleburg, The Hague, Alkmaar
Tracks:
Driving distance in 'Monsieur Gustave H.', our lovely Renault Scenic:
2437.3 km total odometer - 1,269 km starting mileage = 1,168.3 km
Walking:
Total = 1,222.7 km
Expenses:
Total Expenses for the 7 Days: $ 5,308.39 AUD
(This includes the flight from New York to Paris to pick up our car...)
Expense per day = $758.34 AUD/Day
Specific Transport Expenses Total: $1,335.26 AUD
💡
Running Total for all expenses on the Expedition Denouement: $73,515.9 AUD + $6,628.66 of future expenses already accounted for
Travel Bingo:
I don't think I should make multiple bingo cards per week, so:
France: 1 'Influencer'
Belgium: 3 'Influencers' and a wonderful 'Khaki Queen'
Netherlands: 1 'Influencer' and 1 'They're Not Gonna Make It' in Amsterdam!
An explanation of Travel Bingo is here.
Relevant Media:
Culinary Corner by a Non-Foodie:
Alkmaar - go to 'Meat and Co' for ribs. Completely unexpectedly fantastic.
The coffee peaked in Toronto for us most recently. I remember getting proper coffee in Paris when we were in France a few years ago, but out in the regions, your best bet is espresso shots with some added milk.
Tips and Tricks:
Drive slow in Amsterdam - give way to everyone, panic at the cyclists, don't kill the cyclists.
Recommendations:
'Champagne people' should go to Reims and Epernay and be all snobby about being in the 'home of champagne' and endlessly tell other people that they 'drank real champagne in the champagne region of France' and continue to be completely boring...
It was cool to see Dunkirk because of the history. Otherwise, not much there.
Bruges is amazing, go and walk the cobbled streets. "It's like a fairytale..." Defintiely watch 'In Bruges'.
Eat waffles and fries and chocolate in Belgium. Is good.
Amsterdam is actually beautiful but it can be super crowded and seedy in some places. You certainly don't need a week there. I was there years ago and a half day was enough for me this time.
While in Amsterdam, however, you may as well check out that seedy stuff - wander the red light district (no kids, please) and go and see a show...
For a nicer (less crowded, less seedy), very beautiful alternative to Amsterdam; try Alkmaar.
Summary:
Week 1 of the road trip saw me kill zero cyclists, which I was happy about.
We actually already have a couple of "It's Europe, parking is a bit of a shambles" scrapes from other cars while Gustave H. has been in a carpark (it wasn't me) but I have pretty good insurance with this rental so whatever.
We have been on completely flat terrain so far. Northern France, Flat Belgium, then billiard table flat Netherlands. The mountains will come soon.
The Dutch are a completely beautiful, lovely people.... (starts searching for rural Dutch farms in which I can become a hermit recluse...)
And I have been annoying Casey with random World War 2 history interludes as we drive across the (at times, still scarred) landscape.
---
Thanks for reading along.
The next weekly road trip update will come... next week.
Luke.
---