Denouement Dashboard - Colombia 🇨🇴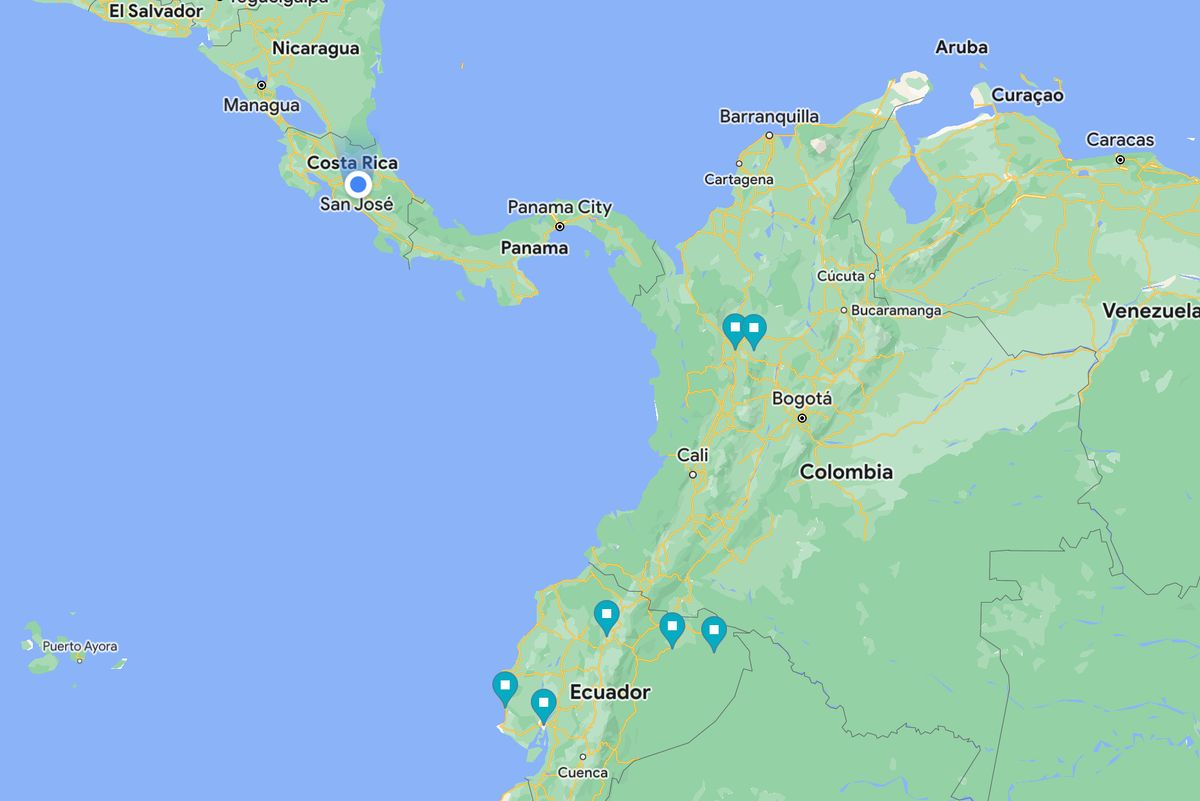 This is the place I will cover the stats of each country as we go.
As usual, follow along at:
Anyway, let's get into it:
---
Colombia: 15-21/5/23
Tracks:
Rough rules: I will count the flight (or bus) TO that country as tracks IN that country.
Planes:
Guayaquil --> Bogota --> Medellin = 1,223 km
Automobiles:
Medellin --> Guatape --> Medellin = 182 km
Airport transfers = 48km
Ubers and Cabs around Medellin = probably only 30km
Boats:
Probably about 3km in Guatape for lunch
Walking:
Total = 1,515.6 km
Expenses:
Rough rules: I will count the flight (or bus) TO that country as an expense IN that country.
Total expense: $1941.98 AUD
Total Days: 7 Days inclusive
Expense per day = $277.43 AUD/Day
Expenses Breakdown (mathematical, not emotional):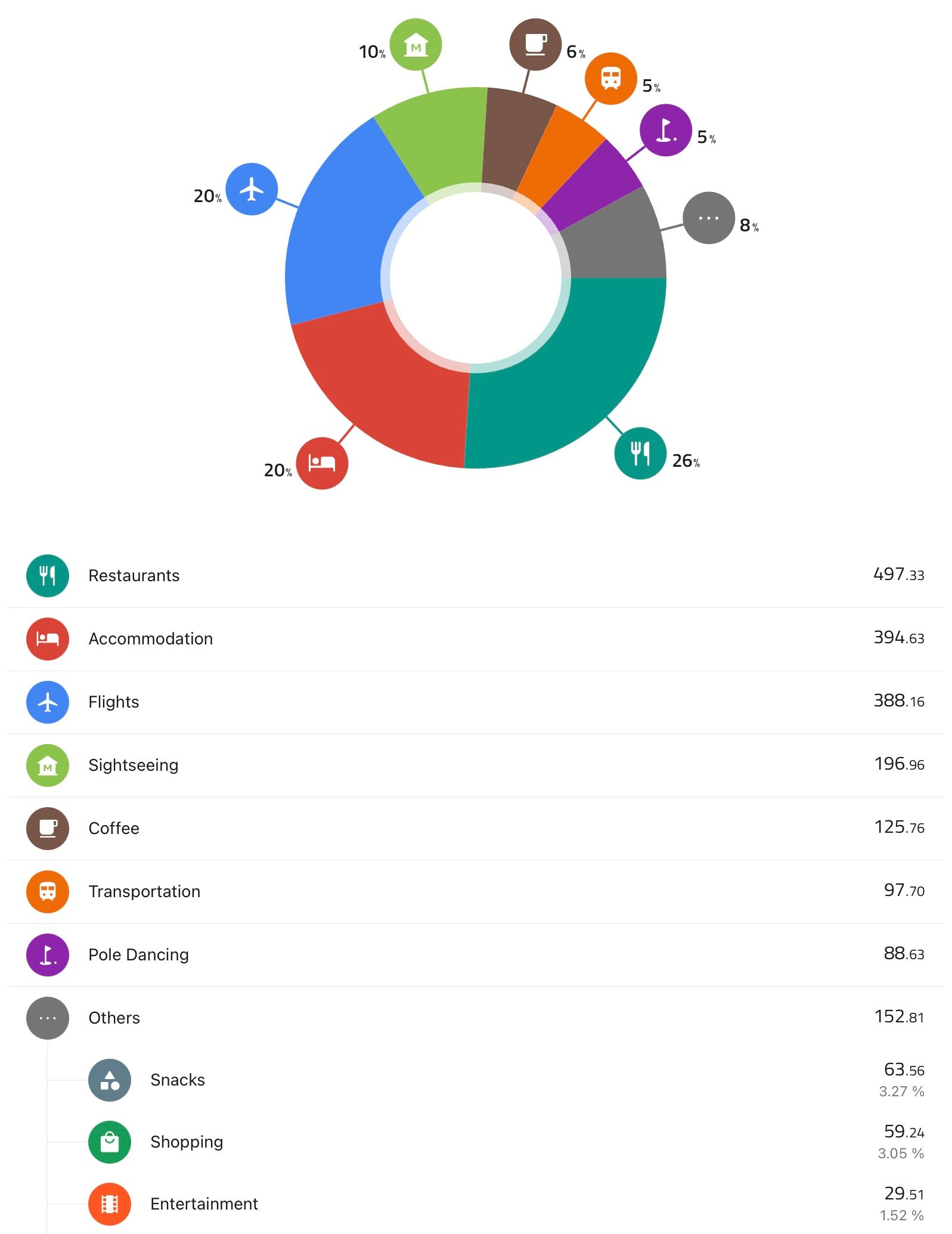 Travel Bingo: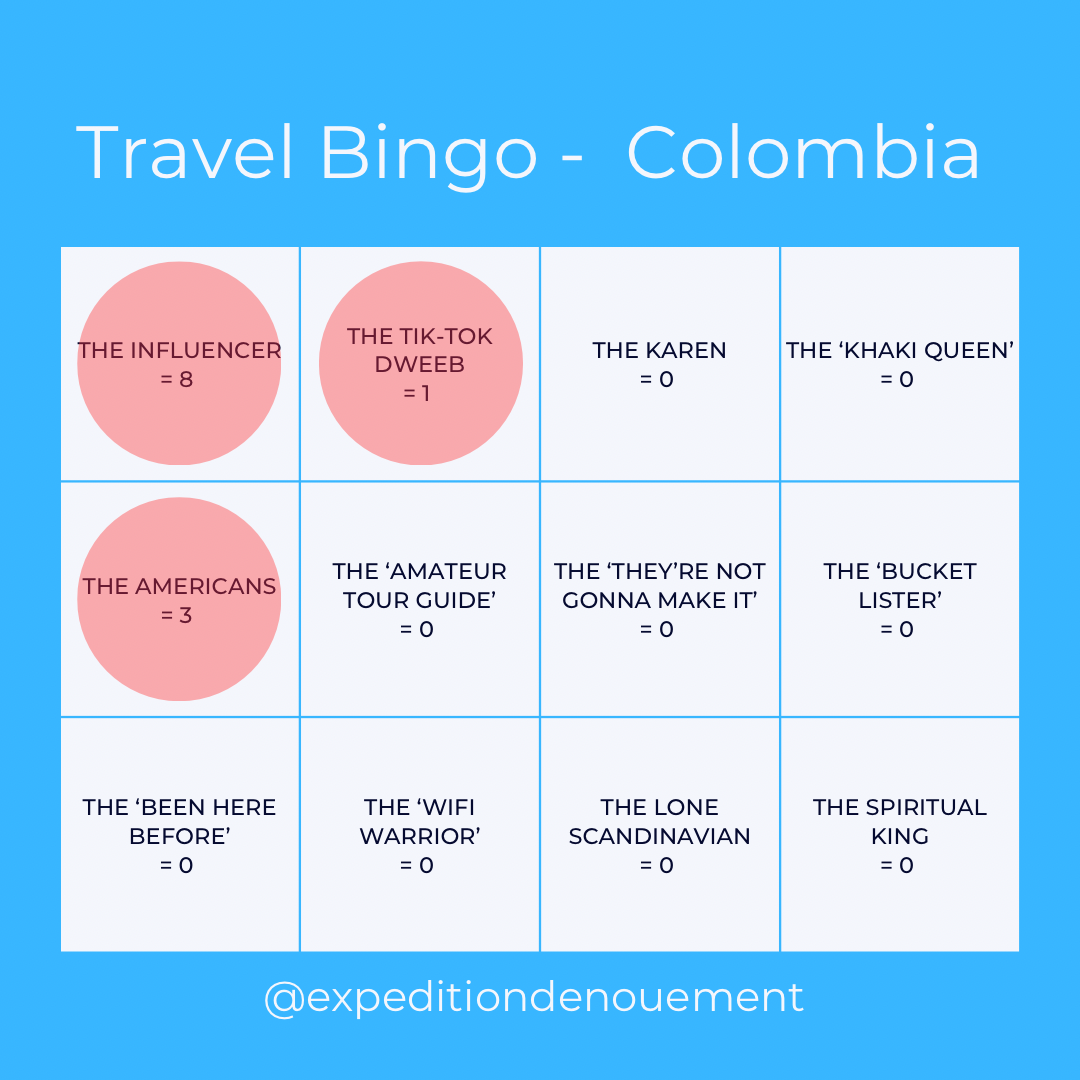 Lots of 'Influencers' in Colombia. Among young women, image is everything.
'The Americans' are starting to appear as we head north. We spotted a pack of them floating around the airport after some sort of bro-ish holiday...
An explanation of Travel Bingo is here.
Relevant Media:
I mean, 'Narcos' was pretty popular on Netflix...
These two Colombianas are fairly popular: KAROL G and Shakira
Culinary Corner by a Non-Foodie:
The coffee in Colombia is excellent
There is a decent restaurant scene in Laureles - we had Mexican, Argentinian, Japanese, Vietnamese
Cafes will serve from extensive breakfast and snack menus
And we are starting to see some more Americanised chain restaurants as well
Tips and Tricks:
'Rappi' or 'Pedidos Ya' for food delivery - download the apps
Ubers are cheap and everywhere - traffic can be very bad, however
As with most of South America - not a lot of English
Colombia is not a Narco hotspot any more - as usual, avoid the Narco economy and you won't have any trouble
Pick a good suburb as your base - heaps of blogs out there to help with this - Laureles and El Poblado are good starts
Because the borders between rich and poor are frequent and drastic - you can pass through good-bad-good-bad suburbs on a simple trip to the movies
Some cultural differences - change an order at a restaurant and you might get an eye roll (probably nothing in it, though); image is everything; social media is a bit of an obsession (maybe even more than the west) such that young women will sneer and eye roll at each other, oneupsmanship is  a thing
Recommendations:
Larueles is a very nice suburb adjacent to a University with heaps of Restaurants and Cafes - very safe
As was El Poblado - very upmarket with lots of restaurants, high end shopping, cafes
Go out to Guatape and climb up the massive rock thing - it is very cool
Definitely go to Communa 13 for a walking tour - we went with 'Visit Medellin Tours' (just google them and book on Viator)
The Botanic Gardens in Medellin city is quite nice - free entry and full of animals freely roaming
Otherwise Medellin is a very green city, and walking the streets is mostly very pleasant
Summary:
I've called this a summary, but we only went to Medellin - so grain of salt here
Colombia was definitely cheaper due to much cheaper accomodation and we avoided the very expensive day tours
We probably stayed a little too long at 7 days; 5 days would be enough for the casual tourist having a look around
Wealth inequalities, as with the rest of South America, are obvious; but we felt very safe
The food is pretty good
And the coffee is excellent
---
Thanks for reading along.
The next country update will come... after the next country.
Weekly updates will come...weekly.
Luke.
---