Any Given Australian Wedding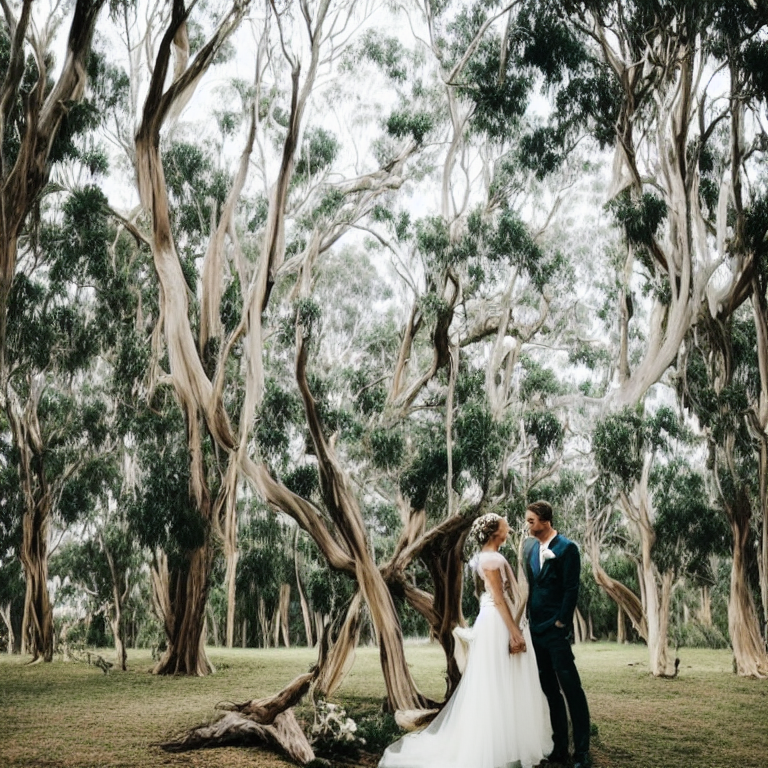 The ceremony has concluded. It was beautiful, they will say. The bride and groom have returned from an interminably long photoshoot in the evening light. They made their grand entrance (to a theme song) to the reception space, where all their guests are seated at long tables. You have eaten your alternate drop dish. Listened to speeches. Watched some people cry.
Now the guests are making their way to the dance floor (after the newlywed couple's first dance - for goodness' sake, never before...).
And, of course, (sigh) there is an unnecessarily generous bar tab...
So now we mingle...
And a series of partial conversations ensue between yours truly and the classic crowd of guests at - 'Any Given Australian Wedding' -
---
Obviously Already Drunk Uncle of the Bride: "SO! WHAT DO YOU THINK OF THIS PLACE HEY!? IT'S A BLOODY HELLUVA LOT NICER THAN WHERE I HAD MY WEDDING!"
Me: (Massaging my eardrums) "Yeah, it's a real nice place." (I have never met this man and have no idea where he was married.)
D: "WELL I MEAN NICER THAN MY FIRST WEDDING, THAT IS. AND I MEAN I'M NOT ACTUALLY MARRIED NOW!"
M: "Oh right.."
D: "YEAH SHE WAS A WONDERFUL WOMAN...." (drifts off into an unintelligible soliloquy, riffing on love and loss - scratch that, he's now dropped his trousers and is jamming to 'Eagle Rock' on the dancefloor...)
And so, I make my first of many escapes...
---
One of the Groom's Friends from his old Private School-Boy Days: "G'day mate! Whaddaya reckon of all this, hey!? Look I'm just gonna go and grab another beer. What are you drinking!?"
Me: "Nah you're right, mate. Nothing for me. I dont drink. This is just (insert any sweet fizzy non-alcoholic drink)."
F: "Wow. I wish I could do that (said with real sincerity). That's great you do that."
M: "Yeah look I've just never drank. Never wanted to."
F: "Oh is it a religious thing?"
M: "(Holding back laughter) Nah I just never started. Don't worry, nothing religous about it."
But he is already gone, off to join another of his old school chums - they seem to identify themselves by wearing cinos, RM Williams boots and a light blue blazer...
---
Woo Girl Bridesmaid who Simply, Like, Cannot stop updating her Instagram: (shrieking as if to try and be heard over the music but the music is not actually that loud so now I have another round of occupational hearing loss) "SO I HEAR YOU DON'T DRINK!?!?!?!?!"
Me: "Yep. That's right."
B: "IS IT A HEALTH THING!?"
M: "No, no. I just don't."
B: "WHAT, LIKE EVER!?"
M: "Nope."
(She now tries to tip some of her drink into my sweet fizzy drink - however I am prepared, and I dodge the drunken attempt at drink-spiking quite easily...)
B: "ANYWAY, YOUR WIFE IS JUST AMAZING!"
M: "Yeah, I know she..."
(gets cut off by)
B: "WOOOOOOOOOOOOOOOOO (as 'Soulja Boi' plays and she heads off to the dancefloor...)"
To be fair, it wasn't particularly hard to escape that one...
---
Mother of the Bride who has had a Chardonnay In Her Hand since 2:30pm this Afternoon: "OH ISN'T SHE BEAUTIFUL!?" (gesticulating wildly at her newlywed daughter...)
Me: "Oh hello, you must be the mother of the bride."
C: (ignores me entirely) "WHEN SHE WAS FOUR SHE SAID "MUMMY I WANT TO GET MARRIED IN A WHITE DRESS" AND OHMYGOD SHE DID!! SHE LOOKS SO BEAUTIFUL."
(At this point the mother of the bride shoves her chardonnay into my hands so she can wipe the tears from her eyes and blow her nose with the the side of her dress)
C: "DARRYL COME ON LETS HAVE A DANCE!!" (She screams, grabbing a man's arm.)
Apparently that Emotional Drunk Uncle's name is Darryl...
---
(Note: I don't normally converse with this next person. I can't. Usually a concerned wedding guest is asking me, the only sober person around, if I think he is alright...)
Token male friend of the Groom whose Entire Personality is made up of 'Getting Shitfaced' at Weddings: ".................................................."
(You see, he hasn't actually said anything. He has kind of just sidled up next to me and is looking at me, swaying, through heavily bloodshot eyes...)
Me: "Hey mate, how are you travelling?"
S: (Again, he cannot speak words. He simply raises his glass to me, does a bizarre 'hat tip' style twitch of the head, and stumbles away.)
To be fair, this was also an easy one...
---
As the night gets messy, which it invariably does, I smokebomb and slide away.
Naturally there are always more characters that I meet but had to cut for brevity, such as:
"The Friend of the Bride who Didn't make the Cut as a Briesmaid but is Intent on telling Everyone that they have been Great Friends since they were 4 years old"
"That one Guy from the Groom's side who is a Legitimately Amazing Dancer"
"The British Aunt who Travelled all the way to Australia for the Wedding; and won't stop Telling People that she Travelled all the way to Australia for the Wedding"
And thus ends my latest visit to the world of the endless bar tab that is 'Any Given Australian Wedding'.
---
---
Disclaimer:
Don't get me wrong. Weddings are almost always completely fun and wonderful celebrations of a coming together of families at the point of two people who love each other.
I just wonder what 'Any Given Australian Wedding' would look like if it wasn't built on covertly mandated alcoholism...
(And, naturally, the above is obviously not an account of a single wedding, just a compilation of characters that I have met along the way.)
---
Bonus:
Tips for for the non-drinker in navigating the 'Hunger Games'-style rampant alcoholism that seems to characterise 'Any Given Australian Wedding':
Simply agree that yes, you are different, for being the only non-drinker present. People will find this amazing. Some will be almost offended. All will find it interesting. Simply nod and smile and make empathetic noises as other guests conduct live-logical-gymnastics to explain why they "simply cannot not drink...I meant there is a bar tab...right?"
A lemonade in a short glass with a slice of lime makes it look like you are dinking some fancy alcoholic drink and can divert many a question.
Never try and say goodbye to everyone at the end of the/your night. It will invariably be a slop-fest of drunkenness at this point. This is not to be rude, rather your friends and family will simply not have the requisite faculties intact to engage in a simple "goodbye and see you next time". You are more likely to get sucked into a session of tears, or screaming along to 'Chicken Fried'. (By the way I - love this song, it's just that by the end of the night, a guest has taken over the DJ booth and is re-playing the song for the 7th time...also that guest is no longer wearing pants.)